The first step in purchasing your new pool is selecting and understanding what
type of pool best fits your family's needs.
We Build the Best Pools & Repair the Rest!
Start right at Bronson Pools and Spas. It's your one-stop store for all your swimming pool and spa needs. Bronson's has the products to make your backyard into your own personal "Home Resort". You deserve rest, relaxation and special family fun and time together in a pool or spa.
Bronson's has in-ground and above ground swimming pools that we install or sell as do-it-yourself repair kits. Need a new liner, pump or filter replacement? Bronson's offers those products and services, too. Our pool parts department is one of the largest in the area and we have many of the hard to find items.
Our spa product lines offer you a chance to unwind and retreat in the comfort of your backyard. Many unique features are designed in our spas for your individual therapeutic needs. Relax and let a spa from Bronson relieve your daily stress and give you rejuvenating experiences in your own home.
Bronson's True Value Hardware offers lawn and garden, plumbing and electrical products for one-stop shopping convenience. These items compliment your pool and spa projects for your home.
Together with our trained, experienced and knowledgeable staff, Bronson's is dedicated to giving you friendly service that you want and deserve since 1969.
We Carry Swimming Pools • Spas • Hardware • Pool & Spa Products
Serving Southeast CT & Southern RI
SOME OF THE IN-GROUND POOLS WE INSTALLED. TO SEE MORE GO TO OUR SHOWCASE PAGE.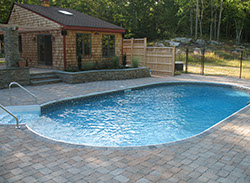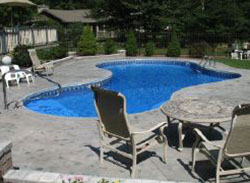 BRONSON POOLS SPAS & HARDWARE
Rts. 138 & 165 • 129 Beach Pond Rd. • Voluntown, CT 06384 • P: 860-376-0605 • F: 860-376-4337